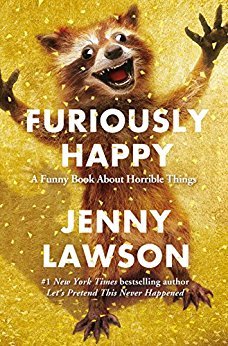 Furiously Happy, Jenny Lawson's second memoir, picks up some time after Let's Pretend This Never Happened. Where the first book covered Lawson's early life, marriage, and motherhood, this one is more about her struggles with mental illness and her growing popularity as a blogger. Because it doesn't have a chronological through-line, this book feels more slight and random than her first memoir. There were some parts that could have been cut, but there were still plenty of sections made me laugh. There was a part about one of her cats eating a toy that I enjoyed so much I had to take a picture of the page to send to my mom.
Lawson has a long list of mental and physical illnesses. She is blunt about how much they affect her quality of life and how she interacts with the world. She mentions more than once that she deeply appreciates her audience because they tell her how much it means to them that she is open about her struggles. There is still a lot of stigma around mental illness and seeking help that needs to be banished—which makes me thankful that Lawson is out there knocking down barriers and misconceptions left and right for us.
Even more than this, I appreciate Lawson's arguments that her mental illnesses are part of what makes her unique. Yes, she is paranoid and socially anxious. But she is also extremely funny and surreal and has a joie de vivre so powerful that it can fight its way through even the deepest depression. That's the thesis of Furiously Happy: to live life so fully and adventurously as possible when she feels better to make up for the times when she can't get out of bed some days. To that end, Lawson goes to Australia (even though everything there is trying to kill you) and hangs out with kangaroos (in kangaroo costume), makes blanket forts with her daughter, and buys as many weird taxidermied animals as she can get away with.
Let's Pretend This Never Happened is a stronger book. That said, I still enjoyed a lot of Furiously Happy because I enjoyed her bizarre conversations with her husband and her meandering chains of thought. I recommend reading this book in small doses so that one can savor the funny and poignant and not notice the repetition quite so much.
---
Notes for bibliotherapy use: Recommended for readers who have people in their lives with mental illness and wish to better understand them. Definitely recommended for readers who struggle with mental illness and need to know that they're not alone.