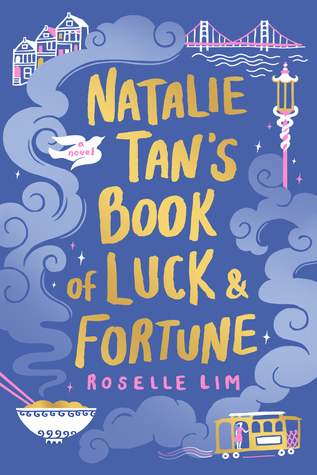 The news that her agoraphobic mother has passed away sends Natalie Tan back to San Francisco at the beginning of Natalie Tan's Book of Luck and Fortune, in Roselle Lim. Her return to the city of her childhood not only brings up troubled memories of her relationship with her mother, but also puts her on a quest to reopen her grandmother's legendary restaurant in an effort to restore the rapidly gentrifying Chinatown she loves. To make things even more interesting, Natalie receives a book of magical recipes written by her grandmother and can see the effects of those recipes in colors and sounds around the people she feeds. Lim's book strikes just the right note between magic and reality.
Natalie has been on the run from her past, in a low-key kind of way, since she left home and failed out of culinary school. Even though Natalie is a very good cook, she hasn't been successful financially. After she returns to San Francisco for her mother's funeral, an old family friend gives Natalie a copy of her grandmother's recipe book and a prophecy. Natalie can only successfully open a restaurant if she prepares three meals for three people in the neighborhood and helps them with their problems. The pacing of the book faked me out at first. I thought things were going a little too well, a little too quickly, at first. But then things go really pear-shaped and Natalie has to do some serious re-thinking about her meddling.
I liked Natalie Tan's Book of Luck and Fortune a lot. The plot is interesting, but what really made this book for me are the descriptions of the food Natalie prepares. They often made me want to run out and go find a really good Chinese restaurant that might serve me fresh-made noodles in broth or dumplings. I also loved Natalie's memories about what her neighborhood used to be and the lessons she learns about the differences between meddling and truly helping people. This would be a great comfort read for many readers and, I think, would also make a fun book club book.
I received a free copy of this book from the publisher via NetGalley, for review consideration.