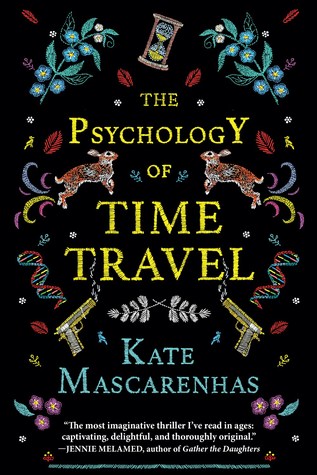 Is it ironic that the creators of time travel never seem to know what will come of their discovery? Could the four women who create time travel in England in the 1960s have known that their invention would lead to a byzantine, temporally tangled, terrifyingly shadowy bureaucracy? They definitely couldn't have predicted what time travel itself could do the psyches of people who undertake it. In Kate Mascarenhas' fascinating novel, The Psychology of Time Travel, we dive deeply into these questions, especially that last one.
Barbara was one of the original four women who created time travel but, after an incident captured live by the BBC, she was pushed out of the quartet and forever banned from even working for the Conclave. Decades later, when another time travel starts to send warnings? hints? to Barbara's granddaughter, Ruby, a spectacularly complex plot kicks off that will take the rest of the book, several investigators, and a lot of head-scratching to figure out. I loved every page of it.
The title of the book–and many events therein–force us to think about the consequences of skipping through time. A lot of the time travelers employed by the Conclave (including all of the original inventors except Barbara) "cheat" by looking ahead to see what happens to themselves. On the one hand, they are very confident. They know they will accomplish what they set out to do, because they already know what the outcome is. On the other, knowing when they'll die and how, who their spouses will be, and so on, seems to leach their emotions of their intensity; they just don't feel as much after a few trips. The only way to feel anything is to haze the new recruits or play chilling psychological games with civilians. For a few recruits, time traveling leads to debilitating maladaptive coping behavior or triggers latent mental illnesses. On top of a wonderfully complicated plot, The Psychology of Time Travel is one of the best "set up a scenario and let's see what happens" books I've read in a long time.
The more I read The Psychology of Time Travel, the more I enjoyed it. The characters are fascinatingly warped and the moving parts of the plot slide around before satisfactorily clicking into place. It's the kind of book where, at the end, you see that everything up to that point was perfectly placed, necessary, even fated. It's the kind of plot mastery that I absolutely adore; I got a story that was utterly gripping, but only saw the author's pen at work at the very end. Reading The Psychology of Time Travel is like watching an elaborate magic trick and getting to learn how it worked afterwards.
I received a free copy of this book from the publisher via NetGalley, for review consideration.