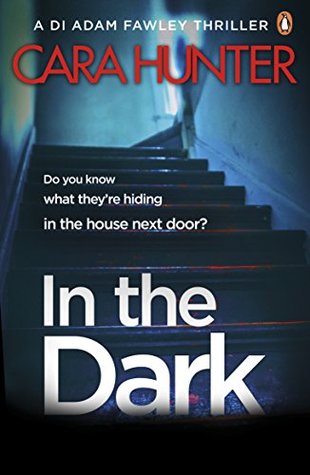 In the Dark is the second novel in Cara Hunter's DI Adam Fawley series, but I was able to dive right into this twisty, fiendish mystery. The mystery is definitely the thing here. The novel kicks off with a bang as an impatient new home owner takes his frustration out on a damp-damaged wall between his house and his neighbor's. The man gets the shock of his life when he discovers that a dehydrated, hungry young woman and her toddler son have been imprisoned on the other side.
In the Dark is, as I mentioned above, a series entry. The name of the series led me to expect that I would be in DI Fawley's head for most, if not all, of the novel—but that is far from the case. Instead, Hunter includes scenes featuring the other detectives in Fawley's team, BBC and local news stories, texts, police interviews, and witness statements. I loved the way this novel is told because a) I enjoyed being a detective in my own right and b) it added even more twists and turns to an already complicated (but always plausible) mystery.
And this is definitely a twisty novel. The early evidence leads us to believe that the owner of the house where the girl and her child were imprisoned had kidnapped the woman two or three years before the novel opened. The owner of the house is suffering from dementia and it's impossible to get much out of him except verbal venom. His social worker didn't have a clue and he had no family. Even though Fawley and Co., have enough of their plates in trying to figure out who the young woman is and what really happened, Fawley notices that the accused's house is directly behind the home of a woman who went missing two years earlier and was never found.
Saying any more would definitely ruin this dark, fascinating mystery. I didn't see any of the twists coming but, in the end, it all made a terrible kind of sense. The only thing I can safely say is that this book ends up in a completely different place from where I expected. The more I read, the deeper In the Dark got its hooks into me. I really, really liked it.
I received a free copy of this book from the publisher via NetGalley.