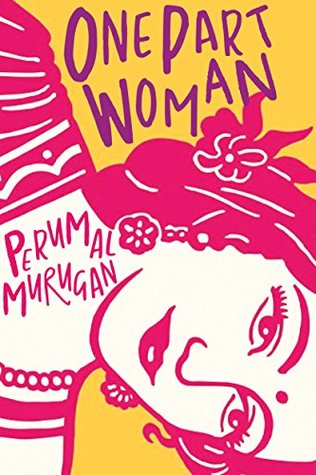 For a long time and in many places (and still is in many places) the role of a woman is to produce children, heirs. This is certainly the case in rural Tamil Nadu, some time after 1945, in Perumal Murugan's One Part Woman (translated by Aniruddhan Tasedevan). Farmer Kali has been married for twelve years to Ponna, but they don't have any children. Everyone around them, from relatives to neighbors to priests, has advice, pity, theories, and/or scorn for the childless couple. Kali is content, however, and deeply in love with his wife. Ponna, on the other hand, is tormented by her inability to conceive. 
One Part Woman takes place in the months leading up to the chariot festival. On the 18th day of the festival, women who hope to conceive have the option of having sex with a man not their husband. The man "appears as god" to the woman and everything is religiously and socially sanctioned. Emotionally, however, things are not so permissible for a couple as in love as Kali and Ponna. Part of the novel reveals how Kali and Ponna's mothers and Ponna's brothers badger the couple to let Ponna take part in the 18th day festivities (for lack of a better word). Ponna is just willing, but Kali is adamantly against it. 
The rest of the novel drifts back and forth in time. We see the couple's history and learn that it was love at first sight for Kali. We also see the depths of Ponna's despair at her possible infertility. In this society, brides are expected to be pregnant within a year. Adoption, we learn, is not an option either due to caste issues, among other prejudices. IVF has either not been invented yet (I think this novel is set in the late 1940s) or, if it has, it's not available for a farmer in rural southern India. The longer Ponna goes without conceiving, the more harassment she gets from everyone around them. When the couple saves money instead of spending it, everyone asks who they can be saving the money for if they don't have children. When the couple offers to help on their neighbors' farms, Ponna is rejected or blamed because of belief that a barren woman's touch brings blight. Ponna might have been able to weather this as Kali does, except for the fact that she very much wants to have children. Every scene made me feel for Ponna.
I also felt a growing sympathy for Kali. He just wants his wife to be happy and for people to leave them alone. But it seems, as though the only thing that might make Ponna happy is a child. I suspect, from hints in the novel, that Kali is the infertile one. This realization hit me as particularly ironic given that Kali seems to be able to make anything grow. Early in One Part Woman, Kali talks about a portia tree he managed to grow in the courtyard of his in-laws' house from a mere stalk. Everything on Kali's farm thrives. The livestock are fat, healthy, and fertile. The crops are abundant. Kali even managed to grow plants for flowers for Ponna's hair. He just can't seem to have a child of his own. 
One Part Woman is a blend of love and sorrow. All of its emotional highs and lows are conveyed in Tasedevan's almost hypnotic translation of Murugan's Tamil. The novel reads like a story told by an old relative, with only a few clues as to time and place. This story feels as though it could have taken place anywhere in southern India, at any time in the first half of the twentieth century. The lack of concrete detail is not a problem. Rather, it makes Kali and Ponna's struggle with expectations and infertility one that could apply to any couple in a society that deeply believes that women should bear children and that women can only be complete if they are mothers.