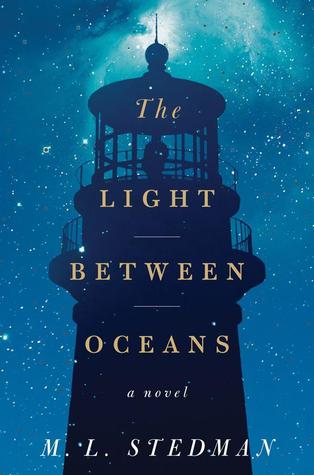 Any story about two mothers contending for custody of a child is immediately going to bring the story of Solomon's decision. The difference in M.L. Stedman's The Light Between Oceans is that both mothers—biological and adoptive—love the girl equally. Hannah Roennfeldt gave birth to Grace, but Isabel Sherbourne rescued and raised Lucy during her first years. Who has the better claim? There's no way anyone can win in the impossible dilemma created in Stedman's novel.
All this comes later. In fact, there's little hint that The Light Between Oceans is going to be a gut-wrenching parental struggle with no acceptable solution. The novel begins with Tom Sherbourne taking a job as a lighthouse keeper in Western Australia. His post is on Janus Rock, an island about 100 miles off the coast. It's a lonely spot. It's perfect for Tom. As a returning WWI veteran, all he wants to do is be far away from other people so that he doesn't have to talk about his war experiences. It's purest fluke that he meets Isabel Graysmark on his way out to Janus. She strikes a spark in him. Isabel wrangles a proposal out of him and, within a year, they set up housekeeping on Janus.
A boat washes up on Janus Rock containing a dead man and a baby. We don't learn how they got there until later. For Tom, the boat is an emergency that needs to be handled. For Isabel, it's a miracle. When Lucy (born Grace) washes up, Isabel has just given birth to a stillborn boy. Isabel and Tom lost two other children before the stillbirth. Isabel convinces Tom to not send up a signal flare. "Just one day" turns into a few weeks. When the supply boat arrives, full of gifts from Isabel's parents for the new baby, it's all too easy for Isabel and Tom to claim the baby as theirs.
About half way through The Light Between Oceans, we meet Hannah Roennfeldt. We learn that her Austrian immigrant husband was hounded out of town, taking to a rowboat with their daughter to escape a mob of angry drunkards on ANZAC Day. After her husband and baby disappeared, Hannah has been holding out hope that they somehow managed to survive. It's only purest chance that Hannah and the police find out that little Lucy Sherbourne is really Grace Roennfeldt. At that point, things get very complicated.
I read The Light Between Oceans because a colleague challenged me to read it. I asked if it was going to make me cry. The colleague said the ending got her a little bit. I can see why. Once Grace/Lucy is restored to her birth mother, everyone is miserable. I couldn't see a way this could end well for anyone. Lucy/Grace can't be divided in half. Neither mother wants to give their girl up, not after all this time. "The law's the law," as one character states late in the book, "but people are people" (338*). The law gives Hannah custody. It makes no allowance for the fact that Isabel and Tom raised Grace/Lucy for the first five years of her life and that the three of them have a deep bond with each other. The law also says that Isabel and Tom are guilty of child stealing and must be punished. The law doesn't take into account that they saved Lucy/Grace's life—and just kind of hung onto her for a few years too long.
I'm not sure how I feel about the ending, but I loved the delicious dilemma. I also loved the setting. Not only did Stedman create stunning portraits of a conflicted father and two heartbroken and battling mothers, she also transported me to 1920s Western Australia. I worried just as much as Isabel about the spiders and the snakes. I could feel the wind and hear the ocean at Janus Rock. This book was engrossing.
* Quote is from Scribd's copy of Scribner's 2012 digital edition.