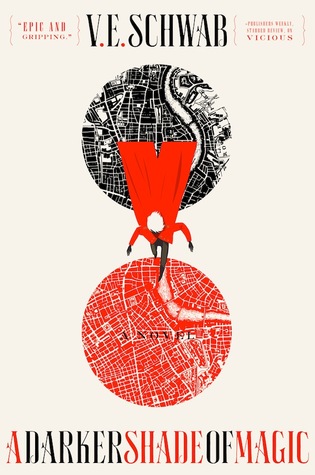 Earlier this year, I read a preview of V.E. Schwab's A Darker Shade of Magic. The preview gave me just enough of the story to get me hooked and too little to be satisfied. I decided then and there to no longer accept previews from NetGalley because I've read too many books that were great up until the ending.
I'm happy to report that the ending of A Darker Shade of Magic does not disappoint.
One of the strangest quirks of Kell's universe is that there is always a London. He's a native of Red London. His adversaries live in White London. Grey London has no magic. Black London is a cautionary tale of magic gone wrong. Kell can travel to any of them he wishes, except for Black London. No one can go there. Kell is one of only two people in his universe who can travel between the three remaining Londons. He lives in the palace in Red London and his job as messenger is anything but onerous. And yet, Kell is not satisfied. His mysterious origins haunt him. Plus, he can't stop breaking the rules about transferring things between the Londons. It's going to get him in trouble one day. A Darker Shade of Magic starts on that day.
A Darker Shade of Magic belongs mostly to Kell. Through him, we learn how the magic in the three Londons works. Delilah Bard, Lila, brings a sense of adventure to the novel. Kell is duty bound (apart from his smuggling) and has a tendency to brood. All Lila wants is to travel. She's feisty and fierce and I enjoyed her company better than Kell's, to be honest. On the day trouble finds Kell, she rescues him from an assassination attempt and steals the stone that made the messenger a target in the first place. Lila just can't help her sticky fingers.
A Darker Shade of Magic then becomes a race across three Londons to get the stone back to Black London before all hell breaks loos. Lila and Kell trade custody of the stone while trying to keep it away from Holland, the only other person who can travel between Londons. Holland is under pressure from the rulers of White London, a land dying from lack of magic, to get the stone back. Those rulers want to open the door to Black London. They believe they can control the wild magic. The few glimpses we get of White London's rulers are enough to convince anyone that giving them more power would be a very, very bad thing.
Though this book is almost 400 pages long, the story races by. There's hardly enough time to catch one's metaphorical breath as Kell and Lila are almost killed (repeatedly), escape (repeatedly), test each other's patience (also repeatedly), and fight off the pernicious effects of the stone. There is something Tolkienesque about A Darker Shade of Magic. Lila is a spunkier Samwise Gamgee to Kell's worlds-weary Frodo. The stone very much has its own agenda. It's a conduit for Black London's wild magic, a power than wants to warp reality.
I'm glad there's a sequel for this book. Even though the ending completes a story arc, there is more than enough unfinished business that I wanted more story. I'm just going to have to wait, once more, for the rest of the story.