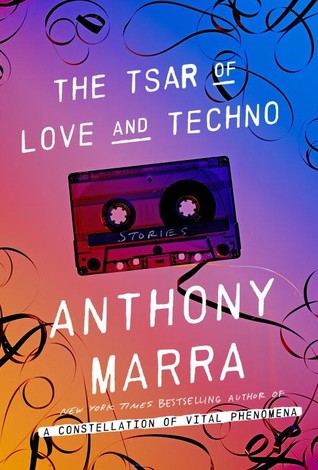 I've been waiting for something new from Anthony Marra since 2013, when A Constellation of Vital Phenomena came out. The book was so moving, so beautifully written, that I just wanted more. The thing I loved most about that book was the way that each character's life would touch other characters' lives unintentionally. One person's betrayal would cause another character's tragedy. Objects would change ownership, almost of their own volition. The stories in The Tsar of Love and Techno are connected in the same way, but they span more geography and longer periods of time than in A Constellation of Vital Phenomena. (I'm fairly sure I caught a reference to Constellation in one of Tsar's stories.) The stories cover 1937 to 2013, Moscow to Siberia to Chechnya. The same thing happened to me at the end of The Tsar of Love and Techno that happened when I finished A Constellation of Vital Phenomena. I had to put the book (iPad) down and just breathe for a while. Once again, Marra floored me with his writing.
The stories in The Tsar of Love and Techno are arranged in two sections, Sides A and B, with an intermission in between. The stories are less disparate than usual for a short story collection. The longer I read, to be honest, the more I saw the book as a loose novel. Side A begins with the story set furthest back in time. In 1937, a man visits his sister-in-law and nephew. He only has one purpose for his visit: to make sure that the sister-in-law destroys all images of the man's brother. That brother was denounced as part of Stalin's Purges. The man, Roman Markin, has the job of rewriting history in the censor's office. He started by inking out the faces of people who were named enemies of the people from pictures. Later, blotting out faces wasn't enough. The disappeared were replaced with new faces. When Roman was ordered to put in new faces in crowds, he started painting in his brother's face. This isn't what got Roman in trouble. What got him was a ballerina's hand. At the end of his chapter, Roman is accused of being in league with Polish spies; the hand was a secret signal.
Roman Markin's work plays a small part in the events that follow. The ballerina in the picture plays her part, too. She was sent to the gulag. Her descendants now live in a polluted nickel mining town. In the late 1990s and early 2000s, the ballerina's granddaughter, Galina, falls in love with Kolya. There's not much future for them. To make some money when Galina gets pregnant, Kolya joins the army and is shipped to Chechnya. Without Kolya, Galina has an abortion and, via the Miss Siberia contest, becomes involved with one of Russia's new oligarchs.
In other stories in The Tsar of Love and Techno, we learn what happens to Galina and Kolya, Kolya's brother, the woman who became famous for denouncing her own mother during World War II, what happened to Roman's nephew and great-nephew. One of the joys of reading Marra's work is watching how objects and events coalesce to show you all the whys behind the whats—that's the best way I can explain it. Marra's stories demand that one pays attention. Everything matters in these stories. But they're not just about piecing together the puzzle of the larger story. Marra's stories are about humanity in extremes. Innocent people keep getting caught up in violent history, in policies they didn't create and fights they didn't start. They endure in spite of everything, but they are always marked with the invisible scars of loss.
I received a free copy of this ebook from Edelweiss and NetGalley, in exchange for an honest review. It will be released 6 October 2015.